On the 31st January, Ottavia Piccolo, one of the most well known actresses of the Italian theatre, and the multi-ethnic Orchestra of Arezzo, were the stars of a play called "Cosa Nostra explained to children."
The play was written by actor and author Stefano Massini, and directed by Sandra Mangini.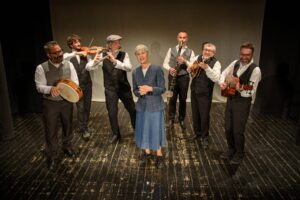 The story revolves around Elda Pucci, who became the first woman Mayor of Palermo on the 19th April 1983. This was the time when the second Mafia war was in full swing, as the Corleonesi killed hundreds of people in their quest to take over Cosa Nostra.
Pucci found herself on the vanguard of the fight against mafia practices in government offices, at a time when opposing Cosa Nostra was a very dangerous thing to do. During her short term, for the first time the city becomes a civil party in a mafia trial. A year later, her house in Piana degli Albanesi is blown up by two charges of explosives. 
In the play Ottavia Piccolo explains the story of those turbulent years using simple words that children can understand. The words might be simple, but the message is a strong one. The children are told about the billions of dollars of drugs that Cosa Nostra trafficked during those years, the murders of General dalla Chiesa, of Michele Reina, of Piersanti Mattarella, of Pio La Torre, of the writer Pippo Fava.
It is important to keep the story alive, in order to prevent it ever happening again.
The Battle for Sicily's Soul – Order from your Favourite Retailer Below
Disclosure: Please note that some of the links in this post are affiliate links. When you use one of these affiliate links, the company compensates us. At no additional cost to you, we will earn a commission, which helps us run this blog and keep our in-depth content free of charge for all our readers.