Maurizio De Lucia is the new chief prosecutor of Palermo. This was established by the Plenum of the Superior Council of the Judiciary with a decision taken unanimously. De Lucia will leave the Public Prosecutor's Office of Messina in order to take on his new role in Palermo.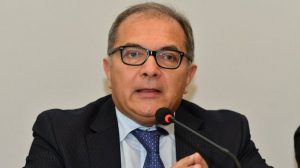 "I am grateful to the Superior Council of the Judiciary for an appointment decided unanimously, therefore with the full agreement of all its members. I know Palermo well and I am aware of the serious problems that await me, for this reason I hope in a very short time to be able to meet my new colleagues to start discussing the many issues that we will have to face, first of all of course the contrast to Cosa Nostra, in all its various forms.

At this moment the thought can only go to the many, too many, Palermo magistrates, policemen and carabinieri who have fallen at the hands of the mafia, whose memory we will try to honour with our work at all times".

Maurizio De Lucia
The Battle for Sicily's Soul – Order from your Favourite Retailer Below
Disclosure: Please note that some of the links in this post are affiliate links. When you use one of these affiliate links, the company compensates us. At no additional cost to you, we will earn a commission, which helps us run this blog and keep our in-depth content free of charge for all our readers.