Assunta Maresca, known as Pupetta (small doll) due to her small stature and pretty face, died on the 21st December 2021, aged 86.
She was born in 1935 in a town close to Naples, in a family with strong Camorra connections. The family nickname was Lampetielli (Lightning Knives), because of their proclivity for daggers.
On the 27th April 1955 she married Pasquale Simonetti, who had a vegetable stall at the market but also moonlighted as a smuggler. Unfortunately, their marriage was short lived. Three months after they tied the knot she was already a widow.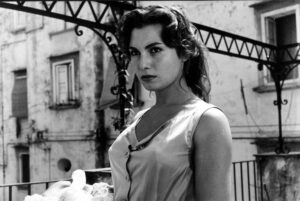 Pupetta was six months pregnant and her entire world imploded. Antonio Esposito, a well-known Camorrista, had ordered her husband's murder. Determined to avenge him, she went to Naples, where she shot Esposito in broad daylight in the middle of the street.
Maresca was arrested and gave birth to her son, Pasquale, in prison. During the trial she struck a defiant tone. She had to kill Esposito, she claimed, to defend her family's honour.
 "I would do it again!"

Assunta Maresca, while testifying in court
Lady Camorra
In 1965, Pupetta was released from prison. However she immediately jumped back into the thick of things, and became heavily involved in the Camorra. She climbed through the ranks and became the first female boss in the Camorra.
"Pupetta Maresca was one of the old school of women bosses – she was ahead of her time. There have been many others since. Women have a much more prominent role in the Camorra than in the other mafias, just as they do in the rest of society in Naples."

Gabriella Gribaudi, a professor of contemporary history at the University of Naples
Assunta Maresca became an infamous personality in Italy, despised and revered in equal measure. She courted the press and publicity, giving press conferences to denounce rival Camorristi. In 2013 she collaborated with a private TV station for the production of a movie about her life.
"Pupetta understood the rules of the game. She kept a scrapbook of newspaper cuttings about her and enjoyed the publicity. She understood her power and when to play the woman card."

Barbie Latza Nadeau, speaking to The Guardian
The Battle for Sicily's Soul – Order from your Favourite Retailer Below
Disclosure: Please note that some of the links in this post are affiliate links. When you use one of these affiliate links, the company compensates us. At no additional cost to you, we will earn a commission, which helps us run this blog and keep our in-depth content free of charge for all our readers.