Gioacchino Gammino was a member of the Stidda, an organized crime group that originated in Sicily.
According to the testimony of various Cosa Nostra pentiti, the Stidda was formed after the Second Mafia War in the early 1980s by a number of former members of Cosa Nostra. Some of the "stiddari" (the name used to refer to members of the Stidda) came from the losing Cosa Nostra cosche, while others had been expelled from Cosa Nostra for breaking one of its rules, such as having an affair or marrying someone relating to a member of the forces of law and order.
In 2002 Gammino was in Rebibbia jail, awaiting trial for murder. He managed to escape in the confusion caused by a film crew shooting a film in the prison. The following year he was found guilty in absentia, but by then he was long gone, ending up on Italy's Most Wanted list for twenty years.
El Huerto de Manu
The Italian police managed to follow his tracks to Spain, but had still not identified his exact location. Then fate intervened and a Google Street View car passed by as he was chatting outside his vegetable shop in Galapagar.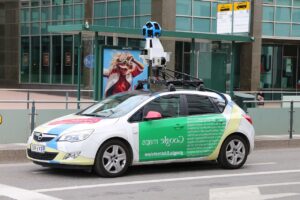 "It's not as if we spend our days wading through Google Maps to find fugitives. There were many previous and long investigations, which led us to Spain. We were on a good path, with Google Maps helping to confirm our investigations."

Palermo prosecutor Francesco Lo Voi, speaking to The Guardian
We now know that when Gioacchino Gammino moved to Spain he changed his name to Manuel. He opened a green grocer, which he called El Huerto de Manu (Manu's Orchard). He also opened a restaurant, called La Cocina de Manu (Manu's Kitchen), where he worked as a chef.
When the Italian Police became aware of the Google Street View footage, they could see that the man chatting outside the store resembled Gammino. However it was not clear enough to make a conclusive identification. So they checked out "Manu" and found a Facebook page with a clear photo of Gammino dressed as a chef in La Cocina de Manu.
On the 17th December the police swooped in and arrested the convicted fugitive. It is indeed ironic that a film crew had enabled him to escape twenty years ago, and a Google Street View car filming the road had led to his recapture.
"How did you find me? I haven't even called my family for 10 years!"

Gioacchino Gammino
Gammino is now in a Spanish prison awaiting extradition to Italy.
The Battle for Sicily's Soul – Order from your Favourite Retailer Below
Disclosure: Please note that some of the links in this post are affiliate links. When you use one of these affiliate links, the company compensates us. At no additional cost to you, we will earn a commission, which helps us run this blog and keep our in-depth content free of charge for all our readers.