The BBC recently completed a two-year investigation into the Nigerian mafia known as the Black Axe. The group started life as a Nigerian student fraternity. However it has since evolved into an organized crime group which has infiltrated the country's political system and has developed a strong international operation.
The Black Axe has been active in Nigeria for decades and is one of the country's most-feared organized crime groups. In Nigeria, membership in these organizations, known as "cults" or "fraternities," is prohibited.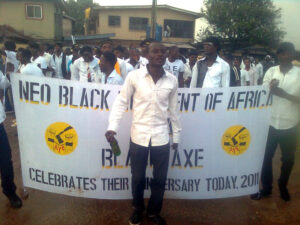 Speaking to the BBC, Kurtis Ogebebor, an activist in Benin City who works to save young people from being recruited into criminal cults, said that Nigeria's politics had become "mafia politics".
"Cultism seems to be at all levels of our government, from the lowest to the highest. You find them everywhere."

Kurtis Ogebebor
International Scams and Fraud
According to thousands of hacked documents and testimonies seen by the BBC, Black Axe is running a global scamming operation well beyond Nigeria's borders. These scamming networks are the primary source of revenue for the gang.
The BBC was given documents showing Black Axe members collaborating on internet frauds all around the world. The documentation included receipts, bank transactions, and thousands of emails. Members share "formats" – blueprints on how to carry out scams – with each other. Romance scams, inheritance scams, real estate scams, and business email scams are just a few of the options.
BBC Africa Eye has been following the growth and development of Black Axe for several years. Their investigative journalists have spoken to former members and verified hundreds of documents that were obtained illicitly from prominent members of the organization by a hacker. The discovered emails suggest a prominent Nigerian entrepreneur and 2019 APC party candidate for political office, Augustus Bemigho, were senior member of Black Axe and were involved in orchestrating fraudulent internet scams that netted millions of dollars.
These cons are not the work of a lone wolf on a laptop. They're systematic, planned, and extremely profitable. They usually include scores of people from all over the world collaborating to carry out one fraudulent activity or many different fraudulent activities at the same time.
The Black Axe – based in Nigeria, operating worldwide
The Black Axe's worldwide cybercrime network is estimated to be generating billions of dollars in revenue for its members. In 2017, Canadian authorities alleged that a money-laundering operation involving the gang was found to have processed over $5 billion. Members of the organization involved in this operation were allegedly communicating between Nigeria, the United Kingdom, Malaysia, Arab nations throughout the Gulf region and several other countries.
The global expansion of the Black Axe was methodically planned and executed. The correspondence reveals that Axemen divided the world into "zones," assigning local "heads." Zonal heads collect "dues" – a sort of membership charge – from those in their regions before sending the money back to leaders in Nigeria's Benin City.
In Italy, mafia laws are being updated to combat the growth of Black Axe, which is overpowering local mafias. In April 2021, 30 suspected Black Axe operatives were arrested in the country. They have been charged with human trafficking, prostitution and internet fraud.
The Battle for Sicily's Soul – Order from your Favourite Retailer Below