Matteo Messina Denaro, wanted since 1993, is the last of the mafia bosses who were the protagonists of the Cosa Nostra massacre season.
He is considered to be one of the most dangerous fugitives in the world. The "godson" of Totò Riina and the undisputed leader of the Trapani mafia, Messina Denaro seems an elusive ghost.
In the last thirty years, countless clues have been followed, colossal efforts made by the state, while the announcements of an imminent capture continue to follow one another. However Messina Denaro always appears to be one step ahead of the investigators. 
In this book, Marco Bova goes through every attempt, every wrong path, every stumbling block in detail. He mercilessly highlights the errors, the internal disputes and jealousies, the interferences, a chronic lack of coordination and above all the attempts to bury those who worked hard for the capture.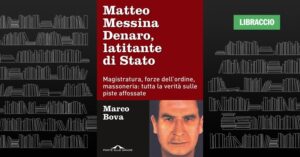 On the other hand, an evolving mafia emerges, indeed already transformed into a Cosa Nuova (New Thing): the links with Freemasonry and with the "salons", infiltrations into the world of high finance and international interests. 
Marco Bova (Erice, 1989) is a freelance journalist and videomaker, collaborator of AGI (Agenzia Italia) and ilFattoquotidiano.it for which he follows news and insights from western Sicily. Author and director of documentaries (remember Berlusconi. La Genesi, 2011, Ciè Business, 2013, Ciapani. Trapani without marketing, 2017, and La forza delle donne, 2018), he has published articles in numerous Italian and international newspapers.
The Battle for Sicily's Soul – Order from your Favourite Retailer Below
Disclosure: Please note that some of the links in this post are affiliate links. When you use one of these affiliate links, the company compensates us. At no additional cost to you, we will earn a commission, which helps us run this blog and keep our in-depth content free of charge for all our readers.