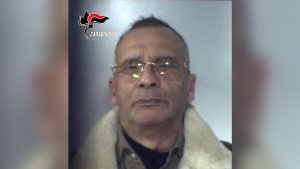 Matteo Messina Denaro, Italy's most wanted man, was arrested while receiving cancer treatment in a private clinic in Palermo, prosecutor Maurizio de Lucia said Monday.
He was Italy's Most Wanted Man and also high up on the list of Europol's Most Wanted Men in Europe.
Italy's Chief of Police, Lamberto Giannini, congratulated the Carabinieri, the country's military police, and the Palermo Public Prosecutor's Office for the arrest, which was the result of many years of hard work and collaboration.
"It is a victory for all the police forces that have worked together over these long years to bring the dangerous fugitive to justice."

Italy's chief of Police, Lamberto Giannini
Giorgia Meloni, the Italian Prime Minister, tweeted: "A great victory for the state, which demonstrates that it does not give up in the face of the Mafia."
In addition, while speaking to the press outside the prosecutor's office, Meloni said that while Italy had not yet won the "war" against the Mafia, this was a "battle that was fundamental to win."
Who is Matteo Messina Denaro?
Matteo Messina Denaro, who also goes by the nickname Diabolik, is recognized as one of the successors of mafia boss-of-bosses Bernardo Provenzano. He was sentenced in absentia to life in prison for his role in a series of terrorist attacks that occurred in Florence, Rome, and Milan in 1993 and left 10 people dead. The attacks were organised in revenge for the arrest of his mentor, Salvatore "Toto" Riina, the Sicilian Mafia's most powerful leader of the 20th century.
Messina Denaro is also charged with participating in a number of other murders, either alone or with others, and was heavily involved in the 1993 abduction of Giuseppe Di Matteo, 12, in an effort to prevent his father from testifying against the mafia. The child spent two years in captivity, before being strangled to death by his own godfather, Giovanni Brusca, and his body was dissolved in acid.
Find out more about Matteo Messina Denaro aka Diabolik in this extract from the book about the Sicilian Cosa Nostra – The Battle for Sicily's Soul
The Battle for Sicily's Soul – Order from your Favourite Retailer Below